February 14, 2019 12:00 am
I've participated in Valentine's Day Sex Drive again!
I've drawn the second most voted option last year, but I went wild and made a scene with four characters this year!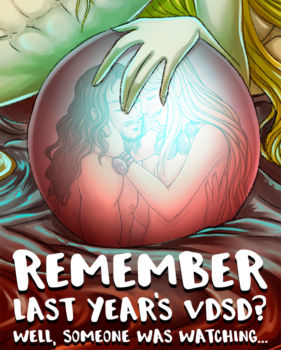 Behold the magnificent Storyteller having fun with his servants and lovers! Silk, loads of tea and a hookah, plus the Netflix of the gods!
Warning! A sexy image awaits you! You've been warned! 
If you wanna see the picture I just ask for your humble vote on TWC and you'll automatically unblock the whole scene! 😀
Edit 2020: here it is!
Thanks for all! If you wanna see the pictures from previous editions, just click HERE!
PS: I promise I'll be back soon! Please, subscribe to my newsletter to receive notifications as soon as I publish them!
Also a friendly reminder that I have a few sketchbook copies left in my house! Run before they're gone! They have a custom drawing inside! And freebies!
List of this year participants!
Stilldown – Theater Of The Bloody Tongue | Matt Burns – Skorgul Tales | Joseph O. Possum – Jack Legend | utzsar – Rocks | Inky – Ink Dolls | Amy Letts – Epic Fail | Sheryl Schopfer – Deer Me | Lou Graziani – Cy-Boar | Barry Linck – Phineus | Barry Linck – Phineus: Teen Wizard | Barry Linck – Phineus: Magician for Hire | hpkomic – RGBots | hpkomic – Cosmic Dash | Julie Devin – Monster Soup | J.E. Draft – The Challenges of Zona | Jaycee Knight – Bloomin' Faeries | Peter Anckorn – By The Book | Jeremy Begin – After the Dream | The Blood Teller – Alvery Nerveaux's Secret Case Files | Microraptor – Cryptida | Lirvilas – Bleach Blonde Valkyries of the Fourth Reich | Ebenezer Splooge – SFW Hentai | Ebenezer Splooge – Nine Tails of Titsune | Ebenezer Splooge – Mammazon | rulerbrain – Selling Smiles | Caley Tibbittz Collopy – SwordCat Knights | Andrew Hunter – Delve | Mark Egan – Bata Neart | Mark Egan – Back Office | Alli Perry – My Hero! | jeromatic – Planet Squad | jeromatic – Bunny Wiggins | Arne Cooper – The Androssian Prophecy | Marshall Reeves – Yesterday Bound | Sean Harrington – Spying With Lana | John Harrington – The Savage Sword of Sharona | Dizzaster Juice – WhiteOut | Dizzaster Juice – Offworld: The Crease | Zach Vanzile – West Tree Academy of Heroes | Ben Bourbon – Devilbear: The Grimoires of Bearalzebub | MonicaNG – MoonSlayer | Nick Greaves – The Great Isle of Prentil | Jacob Jones – Ayuri | Scott T. Hicken – Exiern: Dark Reflections | Scott T. Hicken – Exiern | Stef Marcinkowski – Sarah Zero

Some of these links are extremely NSFW, open them at your own discretion. I'm not in any way asociated with them.

Tags: NSFW, VDSD


Categorised in: News